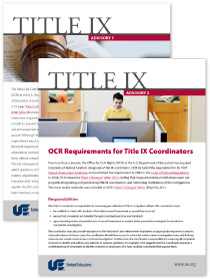 UE prepared six Title IX advisories to clarify steps institutions should take to avoid financial losses and negative publicity from noncompliance. We've compiled them in a convenient ebook, Title IX Advisory Toolkit, which explains the DCL's key requirements:
Designate a Title IX coordinator to investigate or oversee the investigation of reports of sexual assault or harassment. Our toolkit explains the coordinator's role and responsibilities.
Implement training for students, faculty, and staff—including campus law enforcement personnel—to identify and respond to sexual assault and harassment. UE's toolkit includes recommendations for training and prevention.
Conduct investigations that are fair to all involved parties. Our toolkit includes detailed information on nondiscrimination policies, grievance procedures, conducting investigations, and holding disciplinary hearings.
Download your FREE copy of UE's Title IX Advisory Toolkit today.